Seven in the event HMFF (Home Made Food Fiesta) on Saturday, May 14th, 2016 at Tirtasani Club House, Godean Street Km 4, Yogyakarta.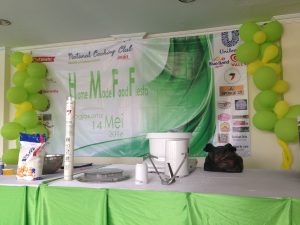 Routine activities of NCC (Natural Cooking Club) Yogyakarta are Latbar (cooking or baking in group) and HMFF. Result of Latbar called a potluck which the creation of own cuisine. Each member of NCC should bring their own potluck to HMFF event to promote their product.
Objectives of the 3rd HMFF by NCC Yogyakarta are to make the bond between NCC members, creativity expression event, exploration in culinary area and collaboration between NCC with their sponsors. On this occasion, Mrs. Fatmah Bahalwan as NCC founder also hosted baking demonstrations.
Seven are committed to support NCC events through our participation and attendances. Seven also gave BasicBake White & Natural and PrimeBake product for free to all attendances.
Thank you for warm enthusiasm NCC Yogyakarta. See you next time!