THE BUTTER / MENTEGA DIFFERENCE WITH MARGARIN
Many assume that margarine is better than cooking oil. Many also mention margarine and butter. In fact, these opinions and articles are wrong.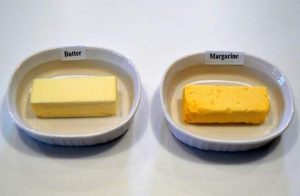 Basically fat consists of saturated fat and unsaturated fat. Saturated fats are found in animal fat and butter. Whereas unsaturated fats are found in coconut oil, palm oil, sesame oil, olive oil and fats derived from other plants.

MARGARINE
Margarine is made from oil or vegetable fat. At room temperature, vegetable fat is liquid and has cis chemical bonds that make it easy to rancid. So that the product lasts longer, the vegetable oil is hydrogenated. Hydrogenation is the addition of hydrogen which turns oil into a denser one. So that the chemical bonds that were originally cis are converted into trans. Hydrogenation converts unsaturated fatty acids into saturated fatty acids and trans fatty acids that are difficult to digest by the liver.
As a result of not being able to digest, the liver throws it into the blood, so the cholesterol level in the blood rises. High cholesterol will eventually stick to the walls of the inner blood vessels so that blood flow narrows. This will be very dangerous if the narrowing of blood vessels occurs in vessels that supply oxygen and food to the heart. So that it can cause the heart to lose important nutrients and a heart attack occurs.
BUTTER
Butter or what is called butter is made from animal fat. How to make it is to stir milk cream as a basic ingredient until it becomes solid fat. While the liquid that is separated from butter during the stirring process is called buttermilk. The butter is then printed according to taste and compacted again.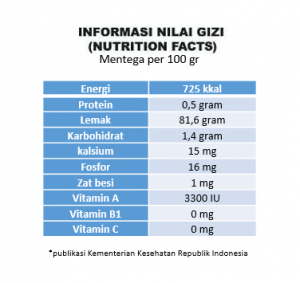 If consumed with the appropriate amount can provide nutrients for the body. In addition to fat content, other benefits of butter also contain many nutritious substances, such as:
Contains vitamin A, vitamin E, vitamin K and Selenium, which can ward off free radicals and are useful for maintaining heart health.
Lecithin compounds, useful to prevent elevated levels of high cholesterol in the blood.
Contains minerals, calcium and phosphorus for healthy bones and teeth.
Contains iodine which helps the digestive tract function.
Fatty acids in butter can protect digestion from channel infections that commonly attack children and the elderly.
Fat and cholesterol contained in butter is very good for the development and growth of a child's brain.
Let's live healthier for you and your family!
Source: google, kompasiana, Benefits.co.id